What controls the life cycle of deep-sea channels?
Prof Bill McCaffrey (SEE), Dr. Marco Patacci (SEE), Dr Luca Colombera (SEE)
Project partner(s):
Petrotechnical Data Systems Ltd (CASE)
Contact email:
w.d.mccaffrey@leeds.ac.uk
A PhD studentship to be run under the auspices of the Turbidites Research Group in the School of Earth and Environment at the University of Leeds
Background
Deep-marine clastic environments form the largest depositional systems on Earth. The interest in these systems is both scientific and economic, as they represent significant records of the Earth history and host large volumes of hydrocarbons. Yet because of the limited accessibility to deep-water modern seascapes and the catastrophic and episodic activity of turbidity currents, understanding the dynamic evolution of these systems continues to pose significant challenges.
A key process in the formation of these deep-sea systems is the sequence of initiation, development, and abandonment of submarine channels – which may occur in single or repeated cycles. To better understand the evolution of channel networks, it is necessary to differentiate between the effects of internally-driven (autogenic) and externally-driven (allogenic) forcings, which control the way channels undergo such cycles, before eventually passing some critical threshold leading to final channel abandonment. Understanding the role of submarine channels as key conduits for sediment transport to the deep sea is important for improving interpretations and predictions of deep-marine clastic depositional systems.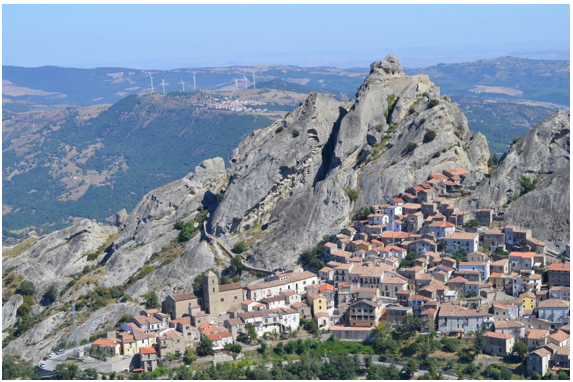 Aerial photo of the submarine channels of the Gorgoglione Flysch and the village of Pietrapertosa, Southern Italy. (Credit: Claudio Casciano, TRG PhD student).
Project description
The principal project goal is to apply a combined fieldwork and literature-synthesis approach to describe and classify different depositional motifs of submarine channels, for example based on the mode of channel initiation, infill and abandonment, and to distinguish the principal controls on these processes through the compound analysis of depositional systems of different types.
The project will include a fieldwork component aimed at producing a detailed characterisation of canyons and channels in terms of their fill variability and their relative position within the larger turbidite system. This characterisation and interpretation will be integrated into the tectonic, sea-level and climatic history of the study area to look for associations between controlling factors and channel-fill characteristics. Candidate field areas include outcrops of sand-rich and mud-rich canyon and channel fills of the Castissent Group in the South-Central Pyrenees, of the Tertiary Piedmont basin fill of the Nortwestern Italy and of the Gorglione Flysch in Southern Italy. Outcrop data collection will include detailed sedimentological facies analysis, mapping and correlation of key surfaces and construction of three-dimensional outcrop models using photogrammetric techniques.
Original field data will be integrated with a compilation of literature-derived datasets to capture the multi-scale sedimentary architecture of submarine channels. By using the TRG Deep-Marine Architecture Knowledge Store (DMAKS) database a synthesis of the existing sedimentological data of channel fills will be undertaken. Additional research approaches are possible depending on the successful candidate's interests, and include, for example, the use of 3D seismic datasets or experimental work in the flume tanks of the Sorby Environmental Fluid Dynamics Laboratory.
Potential for high impact outcome
The dynamic of submarine channels remains one of the key research topics in deep-water clastic sedimentology. The combination of field studies with a database approach to include literature-derived data is novel in this field and therefore is likely to generate original generic outputs suitable for high-impact journals, such as Geology.
Training
The successful applicant will work within the inter-disciplinary Turbidites Research Group, which is part of the wider Sedimentology Group at the School of Earth and Environment, Leeds University and has a number of on-going research projects related to deep-marine clastic sedimentology via field studies, physical and numerical modelling and seismic studies. This project provides specialist scientific training, as appropriate, in: (i) field-based techniques for the sedimentological and architectural analysis of clastic successions; (ii) geological interpretation of seismic datasets; (iii) relational-database theory and practice; (iv) statistical analysis. The mixed pure- and applied-science nature of this research project will enable the student to consider a future career in either academia or industry. In addition, the student will have access to a broad spectrum of training workshops provided by the Faculty that include an extensive range of training workshops in statistics, through to managing your degree, to preparing for your viva (http://www.emeskillstraining.leeds.ac.uk). There will also be opportunities for the appointed applicant to spend time in the offices of our chosen project partner, Petrotechnical Data Systems (PDS), and one or more TRG sponsor companies. Such placements will involve working with a team of applied geology professionals. The successful candidate will be strongly encouraged and supported to publish the outcomes of their research in leading international journals.
Related undergraduate subjects: