Structural controls of orogenic gold in Northern Ireland and implications for orogenic gold genetic models
Dr Taija Torvela (SEE), Dr Rob Chapman (SEE); Dr Mark Cooper (GSNI); Dr Greg Hope (DR)
Project partner(s):
Geological Survey of Northern Ireland; Dalradian Resources Inc. (CASE)
Contact email:
t.m.torvela@leeds.ac.uk
Project summary and motivation
This project will synthesize both regional and deposit-scale studies to illuminate gold mineralization controls and processes in the Grampian terrane of Northern Ireland: Detailed deposit investigation at Dalradian Resources' Curraghinalt Mine will be integrated with wider analysis of regional tectonic and structural evolution to contribute not only to our understanding of ore genesis at the UK's most important gold prospect, but also to clarifying the more general structural controls influencing the location and genesis of the Curraghinalt deposit. These studies will underpin a consideration of orogenic gold models and gold deposit genesis in similar settings globally. The project will also have significance in informing future regional exploration strategies in Northern Ireland.
Structural controls of orogenic gold are varied and the understanding of the effect of the larger-scale tectonic and structural evolution on the ore deposit formation are still relatively poorly understood. This project will study the regional structural context of specific localities hosting economically important gold mineralization with a view to developing hypotheses which account for the structural location of these occurrences. In this way we aim to investigate whether generic controls may inform existing models for orogenic gold genesis on one hand and regional exploration on the other hand. An important outcome of the study is to apply this new understanding of gold localization to other orogenic gold districts in order to contribute to the ongoing academic debate on the nature of these deposits.
Good field areas that are both easily accessible and have a reasonable amount of background data are valuable assets in the global efforts of elucidating the debate on orogenic gold genesis. Decent field areas are, however, fairly rare. Northern Ireland provides an excellent basis for study owing to the development of the economically significant gold mineralization at Curraghinalt and Cavanacaw, recent detailed geological mapping by the Geological Survey of Northern Ireland (GSNI), and the Tellus program which has generated a state-of-the-art integrated geochemical and geophysical database. Several other gold localities in NI have been reported including detrital gold in various river catchments where there are no known bedrock sources and glacial cover is thick. The UK Caledonides are contiguous with the auriferous terranes along the eastern seaboard of North America which have a long history of gold extraction, such that there is a real potential for further important discoveries. Northern Ireland has only relatively recently become a focus of exploration and this project offers exciting opportunities to address the fundamental questions of the localization and genesis of gold mineralization, while also considering highly relevant exploration questions.
This project focusses on the regional setting of the Curraghinalt Deposit in the Sperrin Mountains (e.g. Dalradian Resources Inc, 2016), where a mine is currently under development. The Curraghinalt gold is hosted by sub-parallel auriferous quartz veins, formed within the Neoproterozoic (Dalradian) metasediments thrusted over an Ordovician island arc (Tyrone Igneous Complex; e.g. Cooper et al., 2011; Hollis et al., 2012; Standish et al., 2014; Rice et al., 2016). Numerical analysis implies that the veins are more clustered than expected from a random distribution (McCaffrey & Johnston, 1996) which in turn suggests that the veins may be linked to a more regional structural pattern. Recent mapping by the Geological Survey of Northern Ireland (GSNI) and the availability of extensive geophysical and geochemical data sets (Tellus Surveys) provide an excellent basis to investigate regional structural evolution and its relationship to the mineralization.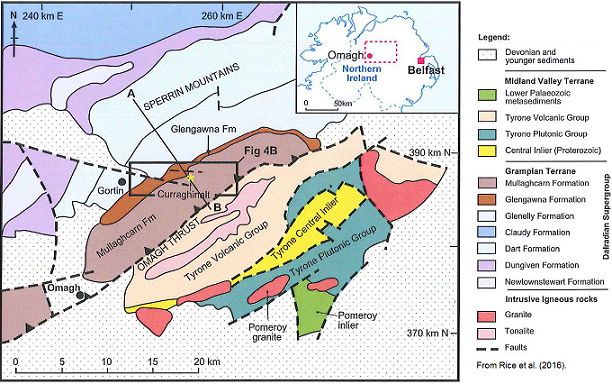 Figure 1. The location and simplified geological map of the Curraghinalt gold deposit. From Rice et al., 2016. Recent detailed mapping done by Dr Cooper will benefit this project, along with the existing Tellus databased at GSNI.
Aims and objectives
The project aims at investigating the structural setting of gold mineralization in NI, in the context of the Caledonian/Acadian orogenic belt in N America and Scandinavia, and addressing the implications to the orogenic gold formation models globally. The specific research questions are:
i. What is the detailed structure of the Curraghinalt ore body? How does it link to the regional tectonic and structural evolution – e.g. are shear zone/vein interactions important?
ii. Are there characteristic structural signatures associated with the Cavanacaw deposit and smaller 'regional' veins, and do they differ from those at Curraghinalt?
iii. What is the effect of lithological variations and pre-existing boundaries/structures to ore localisation?
iv. Can detailed geochemical, geomechanical, and/or microanalytical investigations tell more about the relative timing and/or stress field conditions of the vein formation at different sites?
v. Is the structural setting of NI deposits replicated elsewhere in the Caledonian/Acadian belts and/or in other global, know orogenic gold deposits? What are the implications to the debated models for orogenic gold formation and for the generic considerations in locating the exploration targets with the most economic potential?
The specific objectives include 3D-4D model building based on data collection and analysis through field work (both underground and surface mapping), analysis of drill core samples, and from the Tellus database which will be made available to the project through the involvement of GSNI. Other key objectives building on these will be defined according to the student's specific skills and interests, but it is expected that significant emphasis will be placed on e.g. microanalytics, geomechanics, or detailed vein geochemistry, in order to shed light on the more generic aspects of orogenic gold genesis.
Potential for high impact outcome
Scientifically, the genesis of orogenic gold is a debated subject: the fluid sources, fluid pathways, gold source, timing of mineralisation, and trap mechanisms are all active research topics worldwide. Regardless of the fluid or gold source, all orogenic gold deposits are strongly structurally controlled, but the linkage between the structures, the tectonic evolution, and the fluid and gold sources are poorly understood. Therefore, this project will be a significant contribution to the understanding of orogenic gold systems as it aims at a detailed analysis of the tempo-spatial evolution of orogenic gold. We anticipate the project will generate several papers with wide interest, and at least one will be suitable for submission to a high impact journal.
The project will have a significant impact for the project partners and gold exploration in Northern Ireland in general: better understanding of the structural controls of gold mineralisation there will greatly aid both mine planning at the Curraghinalt site and wider exploration efforts in Northern Ireland.
Training and employability
The student will work under the supervision of Dr Taija Torvela and Dr Rob Chapman within the Ores and Minerals Group of the Institute of Applied Geosciences, with extended visits (field work) to Northern Ireland. This project provides specialist scientific training in: (i) structural analysis, including 3D and 4D modelling of data at various scales and virtual 3D outcrop analysis; (ii) state-of-the-art microanalytical, geomechanical, and/or geochemical techniques; and (iii) industry-standard software skills. In addition, the student will have access to a broad spectrum of training workshops both externally and internally that include workshops in e.g. image analysis, 3D photogrammetry, numerical modelling, presentation skills, through to managing your degree and preparing for your viva (http://www.emeskillstraining.leeds.ac.uk/). The student will join the Leeds Ores and Minerals Group which holds regular research meetings and which involves a range of academic staff whose interests overlap ore deposits. We anticipate that the student will attend both national conferences (e.g. MDSG) and international academic/ industry facing conferences (e.g. SEG, SGA, PDAC, Roundup) according to their career trajectory.
The PhD study is equally suited to career pathways in academia or industry. The expected outputs of the project have global significance for understanding of an economically important mineralization type where deposit models and deposit classification are still the subject of intense academic debate. At the same time, collaboration with geoscience professionals of Dalradian Resources provides excellent industry-facing experience. Regional fieldwork with GSNI staff provides exposure to the work of Government geologists and their various remits. The student would also be expected to contribute substantially to the activities of the buoyant Leeds Chapter of SEG, with all the associated benefits of networking across industry and academia. Finally, the School has close links with the Minerals Deposit Research unit at UBC Vancouver, and Leeds postgraduate students regularly present their work at the annual Vancouver Exploration Roundup. Consequently the student will benefit from wide ranging and established institutional links with the Canadian exploration industry and academia.
Student profile
The successful student will have a high 2:1 or 1st from a Geological Sciences or similar programme. Strong geological mapping and structural geology skills, demonstrated by high marks in relevant undergraduate and/or postgraduate modules or final dissertation project, and the ability to clearly communicate results visually and in writing are essential. Previous experience of ore deposit geology in either an academic or industrial context is desirable; additional specific experience in orogenic gold, microanalytical techniques, virtual 3D outcrop construction, GIS, geophysical data (gravity and magnetic), 3D modelling, and/or geochemical analyses is also desirable but not essential.
CASE Partners
The proposal has been agreed as a CASE project with the Geological Survey of Northern Ireland (GSNI) and Dalradian Resources Inc (DR). The project co-investigators are Dr Mark Cooper (GSNI) and Dr Greg Hope (DR). GSNI and DR will provide extra funding to the student project in accordance with the CASE studentships in the NERC DTP, equally divided between the GSNI and DR. Work with Dalradian resources will focus on underground studies of the active mine, and evaluation of drill core. The focus with GSNI will be on the structural framework of the region and interpretation of recently generated geological data sets (Tellus). Co-supervision will involve regular meetings between all partners including field work in Northern Ireland (3 months in total), hosted by the project partners. The project expands from and aligns with an existing collaboration between Leeds (Chapman) and DR. The project will link well with the ongoing Northern Ireland exploration activities at GSNI and DR and will benefit from recent and ongoing detailed mapping work undertaken by Dr Cooper.
References
Cooper, M.R., Crowley, Q.G., Hollis, S.P., Noble, S.R., Roberts, S., Chew, D., Earls, G., Herrington, R. & Merriman, R.J. 2011. Age constraints and geochemistry of the Ordovician Tyrone Igneous Complex, Northern Ireland: implications for the Grampian orogeny. Journal of the Geological Society, London, 168, 837-850.
Dalradian Resources Inc., 2016. Technical Report for the Northern Ireland Gold Project, Northern Ireland. SRK report 3CD016.000, 169 p.
Hollis, S.P., Roberts, S., Cooper, M.R., Earls, G., Herrington, R.J., Condon, D.J., Cooper, M.J., Archibald, S.M. & Piercey, S.J. 2012. Episodic-arc ophiolite emplacement and the growth of continental margins: Late accretion in the Northern Irish sector of the Grampian-Taconic orogeny. GSA Bulletin, 124, 1702–1723.
McCaffrey, K.J.W., and Johnston, J.D., 1996, Fractal analysis of a mineralised vein deposit: Curraghinalt gold deposit, County Tyrone: Mineralium Deposita, 31, 52–58.
Rice, C.M., Mark, D.F., Selby, D., Neilson, J.E. and Davidheiser-Kroll, B. 2016. Age and Geologic Setting of Quartz Vein-Hosted Gold Mineralization at Curraghinalt, Northern Ireland: Implications for Genesis and Classification. Economic Geology, 111, 127-150
Standish, C.D., Dhuime, B., Chapman, R.J., Hawkesworth, C.J., and Pike, A.W.G., 2014, The genesis of gold mineralization hosted by orogenic belts: A lead isotope investigation of Irish gold deposits: Chemical Geology, 378, 40–51.
Related undergraduate subjects: