Managing coral reef growth and decline rates to improve reef resilience
Dr Maria Beger (SOB), Dr Alison Dunn (SoB), Dr Elizabeth McLeod (The Nature Conservancy)
Project partner(s):
The Nature Conservancy (CASE)
Contact email:
m.beger@leeds.ac.uk
Summary
This exciting project will employ cutting-edge techniques and unique marine datasets to develop novel conservation mechanisms to manage coral reef resilience. You will work within a globally leading marine conservation scientists and with a leading global conservation NGO. You will have the opportunity to collaborate internationally with researchers in the USA and Australia, and apply your work to hands-on coral reef conservation at one of TNC's in-country programmes.
Background
Coral reef ecosystems are important for economic and cultural well-being of people, but they are declining. Increasingly, scientists and managers recognise that current approaches to reef management are insufficient; and call for a change in how management decisions for the persistence and resilience of reefs are made. How can the resilience concept help us to manage reefs? Coral reef resilience can be viewed as a reefs' ability to remain a reef despite the stress events it experiences over time (1) and selecting resilient reefs for conservation is probably better than investing in low resilience reefs (1-5). Despite the inherent temporal concept of resilience, existing approaches to measure and plan for resilient reefs struggles to capture these temporal aspects. In order to prioritise resilient reefs for conservation, we need to examine how reefs change over time, and how they differ with respect to: the level and frequency of exposure, the sensitivity to stress, or processes associated with recovery and growth. Different management actions will often be needed to change any of these processes to improve overall reef resilience. The cost and feasibility of different management actions are crucial factors to consider in environmental management (6-8).

Figure 1. Schematic graph of sensitivity to disturbance, recovery rates, and the frequency of thermal stress as indicated by high temperatures.
Objectives
You will work with leading conservation scientists to devise new ways of implementing coral reefs management based on long-term ecological trajectories, exposure rates to stress events, and the cost and feasibility of actions in a decision science framework. Thus, you will evaluate what the best actions are to improve coral reef resilience and how they differ according to the characteristics of a reef. This cross-disciplinary project offers considerable flexibility to choose from these objectives:
Identify global spatial heterogeneities and drivers of reef decline and recovery rates in response to different stressors;

Identify the effect of climate and human stressors on recovery and decline rates of different functional groups of reef organisms;

Identify the costs and benefits of management actions for coral reef resilience;

Develop management recommendations to support reef resilience at a TNC in-country site.
Field sites
Close partnership with a TNC in-country programme is integral to this project and will focus either on Micronesia or the Seychelles. Depending on the needs, some of this work may involve field deployment, and experience in underwater field research would be an advantage. The final site will be chosen at beginning of the project according to local management needs.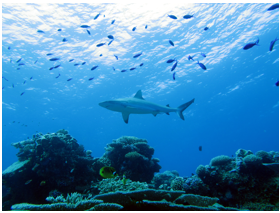 Figure 2. A resilient reef can maintain diversity and functioning through time.
Training
You will be supervised by Dr Maria Beger (lead), Dr Alison Dunn, based at the School of Biology; and TNC collaborator Dr Elisabeth McLeod. They are world-leaders in their fields with excellent track records in training PhD students and publishing high impact research. The project offers the unique opportunity to develop an interdisciplinary knowledge base in conservation science and marine ecology, and offers specialist training in:
analysing spatial datasets;

scientific programming skills for processing and visualising large datasets;

skills in spatial conservation decision making and common decision support software, such as Marxan;

operational realities of coral reef management at a TNC in-country site.
You will also have access to a range of training workshops that cover technical and broader professional development skills and you will present your research at international scientific conferences. These experiences will put you in a strong position to pursue a successful career in conservation and quantitative ecology.
Key impacts
This project is expected to yield high impact publications, as all team members have an excellent track record of supervising high profile student publications. Further, this CASE project partners with The Nature Conservancy (TNC) to enable knowledge exchange and to make findings of this project both relevant to managers and seen by them.
Management in the real world
This project partners with The Nature Conservancy, because conservation science at its best informs managers, policy makers, and local stakeholders, as well as incorporating their needs into scientific thinking. The Nature Conservancy (TNC) is a conservation organization working around the world to conserve the lands and waters upon which all life depends, and with strong relationships from local communities to national leaders, thus the capacity to influence climate policy and responses from local to global scales. TNC leads the Reef Resilience Network (www.reefresilience.org), a global network that builds the capacity of coral reef managers and practitioners globally to better manage and protect coral reefs. The Network provides training, toolkits, and learning exchanges. TNC also has led resilience assessments across the Pacific, US, Caribbean, Western Indian Ocean and maintains an extensive database of resilience survey data. This project will work closely with the Reef Resilience Network and TNC to enable knowledge exchange and to make findings of this project both relevant to managers and accessible to inform their work. This will be ensured through co-supervision, field exchanges, co-developed communications (e.g., webinars, publications) circulated through the Network, and financial contributions to the student's travel to project sites.
TNC in-country sites: Some comments from the field teams about this project:
The Micronesia team is working towards reef conservation across the region, but with focus on Palau and The Federated States of Micronesia. The Micronesia team works closely with Dr. Peter Houk at Univ of Guam and the Palau International Coral Reef Center (PICRC). There is a multitude of datasets available, including ecological data from coral health monitoring data from PICRC and rapid ecological assessments as well. These datasets could be used to support the assessment of spatial heterogeneities and drivers of reef decline and recovery rates and possibly also the effects of climate and human stressors on recovery and decline rates of different functional groups of reef organisms. Some specific data include: 1) spatial variability of coral bleaching and recovery patterns for Palau's main archipelago (Golbuu et. al., 2007, 2011; van Woesik et al 2012); 2) assessment and monitoring data for existing MPAs (PICRC technical report); 3) shallow water marine habitat map for Palau by the U.S. National Oceanic and Atmospheric Agency (NOAA) (Battista et al. 2007); 4) a field assessment of coral reef resilience to rising sea temperatures (Salm et al 2011; McLeod et al. 2012); and 5) a connectivity model for Palau (PICRC unpublished data). The team feels that the cost/benefits of management actions would be really helpful to support climate adaptation work in the region. As part of this work, they conducted social vulnerability assessments, economic valuation of resources, and are developing adaptation policies and exploring the potential for natural insurance. Clearly the management recommendations would also be useful to this project.
Our Seychelles team thought that this would be of interest as well if we involved local NGOs and the Park Authority in Seychelles, rather than TNC alone. TNC's role in the current marine spatial plan is for coordination and process facilitation so they thought it best if the student worked directly with the local organizations doing monitoring and research. They have long term data as follows:
Seychelles National Parks Authority – with Global Vision International; has over 10 years of reef monitoring data at 20 sites on Mahe, Praslin and Curieuse.

Seychelles Island Foundation – research and monitoring of corals at Aldabra Atoll (UNESCO World Heritage Site). Nat Geo Pristine Seas Expedition in 2015.

Nature Seychelles – coral reef restoration projects
The Seychelles Marine Spatial Planning (MSP) Initiative began in early 2014. It is a government-led process aimed at supporting the sustainable and long-term use and health of the waters throughout Seychelles' 200 nautical mile Exclusive Economic Zone. It is an integrated, multi-sector approach to address climate change adaptation, marine protection, and support the Blue Economy and other national strategies. The initiative receives input from all major sectors including commercial fishing, tourism and marine charters, biodiversity conservation, renewable energy, port authority, maritime safety, and non-renew-able resources. Science, spatial data, economic information and local knowledge are being used to propose zones for biodiversity protection and multiple uses. The marine spatial plan will be regulatory to guide policy and economic development.
The Ministry of Environment, Energy and Climate Change is the planning authority and The Nature Conservancy is facilitating the process and leading the development of the marine plan. The MSP Initiative is funded by the Government of Seychelles, private grants to The Nature Conservancy, and grants from GoS-UNDP-GEF Programme Coordinating Unit. The MSP Initiative is a part of the government-led Debt-for-Nature swap that is creating the Seychelles Conservation & Climate Adaptation Trust (SeyCCAT). Phase 1 was launched in 2014 and lays the foundation for a coarse-scale zoning design and draft management considerations - it will conclude in late 2016. Phase 2 will include refining the zoning design and management considerations, developing an implementation plan and new regulations, it will conclude in 2020.
Literature cited and important to read:
1. McClanahan TR, et al. (2012) Prioritizing key resilience indicators to support coral reef management in a changing climate. Plos One 7(8):e42884.
2. McLeod E, et al. (2013) Preparing to manage coral reefs for ocean acidification: lessons from coral bleaching. Frontiers in Ecology and the Environment 11(1):20-27.
3. Beger M, et al. (2015) Integrating regional conservation priorities for multiple objectives into national policy. Nature Communications 6:8208. DOI: 8210.1038/ncomms9208
4. Anthony KRN, et al. (2015) Operationalizing resilience for adaptive coral reef management under global environmental change. Global Change Biology 21(1):48-61.
5. Hughes TP, Graham NAJ, Jackson JBC, Mumby PJ, & Steneck RS (2010) Rising to the challenge of sustaining coral reef resilience. Trends in Ecology & Evolution 25(11):633-642.
6. Tulloch VJD, et al. (online early 2014) Why do we map threats? Linking threat mapping with actions to make good decisions for biodiversity conservation. Frontiers in Ecology and the Environment.
7. Joseph LN, Maloney RF, & Possingham HP (2009) Optimal allocation of resources among threatened species: a Project Prioritization Protocol. Conservation Biology 23(2):328-338.
8. Maxwell SL, et al. (2015) Being smart about SMART environmental targets. Science 347(6226):1075-1076.
Related undergraduate subjects:
Conservation biology
Ecology
Zoology