Spatial and temporal modelling of the African crop pest, the red-billed quelea in relation to environmental change
Dr Martin Dallimer (SEE), Prof Andy Challinor (SEE), Dr Ann-Kristin Koehler (SEE), Dr Stephen Willis (University of Durham), Prof Robert Cheke (University of Greenwich)
Project partner(s):
Natural Resources Institute
Contact email:
m.dallimer@leeds.ac.uk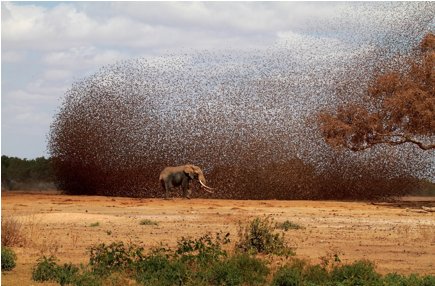 The red-billed quelea (Quelea quelea) is the world's most abundant terrestrial bird (www.youtube.com/watch?v=Bw_RYF381R0; www.bbc.co.uk/programmes/p00381fg). With a diet of small grains, quelea inflict substantial damage on many major crops throughout its sub-Saharan range, earning it the nickname "Africa's feathered locust". Some sources estimate that 15-20% of crop yields are lost to the bird annually. The quelea-cereal crop interaction is, therefore, of considerable economic importance and, as such, has had decades of research devoted to mitigating crop losses. Despite this effort, the species' abundance, rapid responses to resource availability and complexity of its annual migrations has made it difficult to forecast where and when invasions of cropland may occur and thus mitigate or avoid crop yield losses effectively.
Quelea movements are known to differ both seasonally and annually in direct response to differences in environmental variables, such as rainfall and the growth of crops and annual grasses. Furthermore, these variables will alter with climate change in ways that can also be modelled together with their future effects on quelea migration patterns. This makes the intra-African migration patterns of the red-billed quelea a readily tractable system to model and an intriguing contrast to many long-distance migratory birds (e.g. many Africa-European migrants, whose responses to climate change show slower lag effects). The quelea also has one of the most extensive sets of occurrence and abundance data, both temporally and spatially, of any migratory species making it an ideal model species for understanding how mobile species respond to transient climates and resources both within and between years. It provides a novel system through which this PhD will be able to develop modelling and analytical techniques that will help answer fundamental questions about projecting impacts of climate change on mobile species.
The focus of this studentship will be to make use of the extensive historical and contemporary datasets of quelea occurrence, climate model outputs and land-cover datasets in order to simulate the likely responses of the species under scenarios of future environmental change. Further opportunities within this PhD will involve combining models of crop production with models of quelea abundance to simulate quelea populations and movements in response to availability of crops in suitable seed-developmental stages.
Improved management and control of queleas has long been identified as an important component of maximizing crop yields in sub-Saharan Africa. Current approaches, which aim to destroy or displace aggregations (breeding colonies and roosts), are expensive and ad-hoc, as they are restricted to reacting when quelea have already caused damage. An ability to forecast where and when colonies and roosts establish will greatly improve the efficiency of control measures, and enhance food security and rural livelihoods throughout the continent.
Objectives
In this project, you will work with leading scientists at Leeds, Durham and Greenwich to collate and analyse the large existing data on quelea occurrence and abundance that you will have access to. You will use this to investigate how climate and land use change alter the distribution and movements of a hyper-abundant migratory species.
In particular, according to your particular research interests, your studentship could involve:
Modelling crop and grassland productivity across Africa using process-based models to simulate the timing and growth of crops that are susceptible to damage by the red-billed quelea.
Develop environmental niche models to predict the occurrence of red-billed quelea breeding and roosting colonies
Under scenarios of climate change, forecasting future expansion and contraction of red-billed quelea ranges and their likely patterns of movement
Assessing the extent to which crop yield losses associated with red-billed quelea might alter under scenarios of climate change
Investigating the impact, and their mitigation, of red-billed quelea damage on food security, farmer incomes and livelihoods, under present day conditions and/or under scenarios of climate change
Spatial distribution of over 15,000 historical red-billed quelea records
Potential for high impact outcomes
Climate change, the continued appropriation of land for human use, and food security are three of the major worldwide challenges for humankind. The interactions between these three phenomena are frequently complex and how they combine to influence patterns of crop distribution and associated pest species is both complex and novel.
The existing datasets for the red-billed quelea cover a large spatial (all of sub-Saharan Africa) and temporal (over 100 years) range. There is therefore substantial potential within these data, when combined with climate-crop modelling and species distribution models to generate high impact papers.
Training
You will work under the supervision of Dr Martin Dallimer, Prof Andy Challinor and Dr Ann-Kristin Koehler at the University of Leeds, together with Dr Stephen Willis from the University of Durham and Prof Robert Cheke from the University of Greenwich.
The project therefore provides both a high level of specialist scientific training in (i) species distribution modelling, including techniques such as Bayesian individual based model approaches (ii) climate-crop modelling, (iii) socio-economic methods for assessing financial and livelihood impacts of crop losses for commercial and subsistence farmers. Co-supervision will involve regular meetings between all supervisors, with the opportunity for extended visits to Durham (to learn state of the art species distribution modelling under climate change methods), Greenwich (for an understanding of crop pests in sub-Saharan Africa) and with data holders, such as the Natural History Museum, international migratory pest control agencies and/or national departments of Agriculture in sub-Saharan Africa. You will have access to a broad spectrum of training workshops put on by the Faculty including in GIS, statistical and numerical modelling, through to managing your degree, to preparing for your viva (http://www.emeskillstraining.leeds.ac.uk/).
Student profile
You should have an interest in ecology, global environmental change, including land use and climate change. A strong quantitative background is essential, as is the motivation to work with large datasets. Experience of working in the developing world is desirable, but not essential.
References
Baker, D.J., Hartley, A.J., Burgess, N.D., Butchart, S.H.M., Carr, J.A., Smith, R.J., Belle, E. & Willis, S.G. (2015). Assessing climate change impacts for vertebrate fauna across the West African protected area network using regionally appropriate climate projections. Diversity and Distributions 21(9): 991-1003.
Challinor AJ; Watson J; Lobell DB; Howden SM; Smith DR; Chhetri N (2014) A meta-analysis of crop yield under climate change and adaptation, Nature Climate Change, 4, pp.287-291.
Challinor AJ; Parkes B; Ramirez-Villegas J (2015) Crop yield response to climate change varies with cropping intensity, Global Change Biology, 21, pp.1679-1688.
Cheke, Robert A., Venn, Jon F. and Jones, Peter J. (2007) Forecasting suitable breeding conditions for the red-billed quelea Quelea quelea in southern Africa. Journal of Applied Ecology, 44 (3). pp. 523-533. ISSN 0021-8901 (doi:10.1111/j.1365-2664.2007.01295.x)
Cheke, Robert A. and Tratalos, Jamie A. (2007) Migration, patchiness and population processes illustrated by two migrant pests. BiosScience, 57 (2). pp. 145-154
Dallimer M; Strange N (2015) Why socio-political borders and boundaries matter in conservation., Trends in Ecology & Evolution, 30, pp.132-139.
Dallimer M; Jones PJ; Pemberton JM; Cheke RA (2003) Lack of genetic and plumage differentiation in the red-billed quelea Quelea quelea across a migratory divide in southern Africa., Mol Ecol, 12, pp.345-353.
Dallimer M; Jones PJ (2002) Migration orientation behaviour of the red-billed quelea Quelea quelea, Journal of Avian Biology, 33, pp.89-94.
Falloon P; Bebber D; Bryant J; Bushell M; Challinor AJ; Dessai S; Gurr S; Koehler AK (2015) Using climate information to support crop breeding decisions and adaptation in agriculture, World Agriculture, 5, pp.25-43
Howard, C., Stephens, P.A., Pearce-Higgins, J., Gregory, R.D. & Willis, S.G. (2015). The drivers of avian abundance: patterns in the relative importance of climate and land use. Global Ecology and Biogeography 24(11): 1249-1260.
Rippke U; Ramirez-Villegas J; Jarvis A; Vermeulen SJ; Parker L; Mer F; Diekkrüger B; Challinor AJ; Howden M (2016) Timescales of transformational climate change adaptation in sub-Saharan African agriculture, Nature Climate Change, 6, pp.605-609.
Tratalos, Jamie A., Cheke, Robert A., Healey, Richard G. and Stenseth , Nils Chr. (2010) Desert locust populations, rainfall and climate change: insights from phenomenological models using gridded monthly data. Climate Research, 43 (3). pp. 229-239
Willis, S.G. , Foden, W., Baker, D.J., Belle, E., Burgess, N.D., Carr, J.A., Doswald, N., Garcia, R.A., Hartley, A., Hof, C., Newbold, T., Rahbek, C., Smith, R.J., Visconti, P., Young, B. & Butchart, S.H.M. (2015). Integrating climate change vulnerability assessments from species distribution modelling and traits based approaches. Biological Conservation 190: 167-178.
Zheng Y; Dallimer M (2016) What motivates rural households to adapt to climate change?, Climate and Development, 8, pp.110-121.
Related undergraduate subjects:
Agriculture
Biodiversity conservation
Ecology
Environmental science
Geography
Remote sensing