Upland soil functions under organic grazing systems
Dr Sheila Palmer (SoG), Professor Joseph Holden (SoG), Mark Phillips (Natural England), Dr Paul Kay (SoG)
Project partner(s):
Natural England (CASE)
Contact email:
s.m.palmer@leeds.ac.uk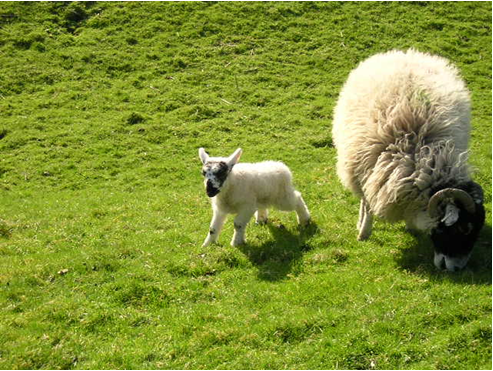 Much of the UK upland landscape, in common with other upland regions of the world with cool, humid or acidic environments, is dominated by soils that are rich in organic matter and that provide diverse ecosystem services including provision of potable water, storing and attenuating water flow, and storing soil carbon (C). Globally, these organic-rich upland landscapes are extensive and either inaccessible to farm machinery or are unfavourable for intensive production, but they are commonly used for extensive domestic livestock grazing (e.g. large areas of the Páramos of South America, hill farming in New Zealand and Australia; upland rangelands of western USA). Yet the functioning of upland organo-mineral soils has received little attention except for a few site-specific studies and despite global meta-analyses on grazing-related ecosystem services our understanding of how soil functionalities deliver ecosystem services is incomplete. Until we have a better understanding of the key soil functions we cannot inform land managers on how to maximise environmental benefit from land management options. These functions include water storage, water quality and carbon storage.
In the UK a significant proportion of the sheep population (e.g. 41% of England's breeding ewes) is kept in the uplands. There are a growing number of organic sheep farms but it is not known whether this farming method has any impact on the soil properties and therefore on ecosystem service provision. The key differences in farming methods relate to how diseases are controlled and prevented, and in stocking and flocking methods. It is not clear what impact these differences in methods have on soil properties. Veterinary treatments are much more frequent for non-organic sheep, with worming of lambs every 6 weeks whether they need it or not, for example. Ivermectins (worming treatments) are commonly applied in non-organic sheep farming. Sheep dip processes also vary. This all means that there is potential for soil biological, physical and chemical properties to vary under organic compared with conventional sheep farming systems. In turn such changes may influence hydrological functions such as water storage and transfer, carbon storage and water quality. For organisations such as Natural England this is critical for informing policy, particularly if there are implications for river flow and river flow peaks, water quality and long-term carbon sequestration. For example, there is current strong interest in how we get multiple benefits from land management activities such as flood risk reduction, water quality improvements, enhanced biodiversity and carbon sequestration. The differences may also vary enormously between soil types from peat to stagnogleys to acid brown earths and so a range of soil types need to be studied.
Objectives
In this project, you will work with leading scientists at Leeds in partnership with Natural England to investigate differences in soil functions between conventional and organic sheep farming. The focus will be on upland organo-mineral soils. Examples of objectives depending on the successful applicant's personal skills and interests include:
Comparing organo-mineral soil hydrological properties under different sheep farming methods (e.g. water storage and transport processes and potential implications for natural flood management strategies)
Measuring water quality, including aquatic carbon loss and veterinary pharmaceuticals produced from soils under different management
Measuring the effects of organic and conventional sheep farming on soil carbon storage and release
Potential for high impact outcome
There is a lack of information about organo-mineral soils and their functions and how they respond to different types of management. Thus the research will yield highly publishable material. The work will directly inform Natural England's understanding of grazing management impacts and this will be of importance for policy development and potentially influence future agricultural payment schemes.
Training
The student will be part of the River Basins Processes and Management cluster in the School of Geography and water@leeds which is the world's largest interdisciplinary university-based water research centre. These groups provide access to routine training through seminars, structured feedback on project ideas and technical training. The supervisory team will provide training on soil hydrological, physical, chemical and biological analysis. Natural England will host the student for 3 months to ensure that the student gains experience of practical and policy implications of their work and in the functioning and structure of a government agency. The successful PhD student will have access to a broad spectrum of training workshops that range from technical through to generic skills building.
Student profile
The student should have a strong interest in environmental problems, fieldwork, soils, hydrology and chemistry. It is expected that the student will have a relevant masters degree or equivalent experience. The student should have a valid driving licence for use in the UK.
CASE Partner
The proposal has been agreed as a CASE project with Natural England providing extra funding additional to the NERC student stipend and a great opportunity to receive training from the partner in practical and policy matters.
Related undergraduate subjects:
Environmental science
Geography
Soil science