Development of a Global Low-Cost Aerosol Monitoring Network
Dr Kirsty Pringle (SEE), Prof Ken Carslaw (SEE), Dr Barbara Brooks (NCAS)
Contact email:
K.Pringle@see.leeds.ac.uk
Project Summary
Worldwide, there are a numerous networks of observation stations designed to monitor the concentration of aerosol particles and pollutant gases. These networks provide information as to the current concentration of aerosol and gases in the atmosphere (at the location of each measurement site), which can be used to build up a picture of the distribution of aerosol particles throughout the globe.
This is important information as the impact of aerosols on climate has remained one of the most significant uncertainties in successive IPPC reports – aerosols can both scatter and absorb solar radiation, and they can also change the properties of clouds, resulting in a complex pattern of warming and cooling that is difficult to quantify. In order to reduce this uncertainty, and better predict climate change, there is a need to improve the representation of aerosol in global atmospheric models, particularly in remote regions, which often have low aerosol loadings, but have a large role to play in the effect of aerosol on climate. Information from global observation networks are vital for evaluating model performance, allowing the identification of regions where models perform poorly. At present, however, most monitoring stations are designed to address issues of air quality and are not equally distributed around the globe, instead they are located in regions of high air pollution and dense population.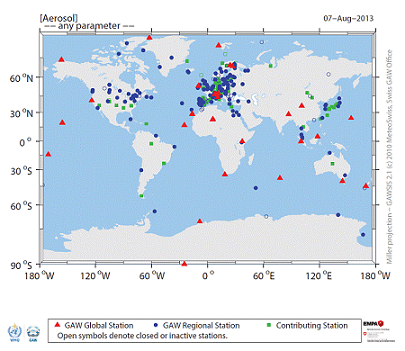 Figure 1: the distribution of long-term aerosol measuring sites in the GAW (Global Atmospheric Watch, http://www.wmo.int/pages/prog/arep/gaw/aerosol.html) network.
Developments in technology, along with an increasing public awareness of the health impacts of air pollution, is leading to a revolution in the way air pollution (including aerosol particles) is monitored; the past decade has seen a sharp rise in the number of start-up companies aiming to develop cheap air-monitoring sensors, which cost hundreds rather than the tens of thousands of pounds that existing monitoring stations cost. These devices are marketed at individuals interested in their personal exposure to air pollution. At present there is no single market leader for these devices, and no clear deployment strategy, but it is widely expected that the industry will soon lead to an exponential increase in the abundance of atmospheric data. The limitation of the data is that low-cost monitors are less accurate than those of conventional long-term measurement sites.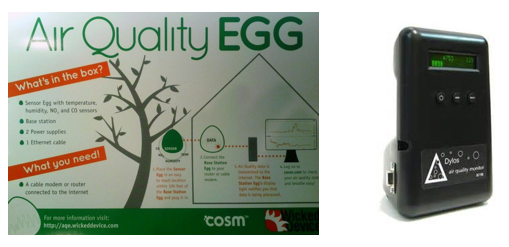 Figure 2: Two examples of currently available low-cost sensors. Left hand side: Air Quality Egg (http://airqualityegg.com/), Right hand side: Dylos Monitor (http://dylosproducts.com/)
In this project you will work with researchers in the aerosol modelling group at the University of Leeds to develop a pilot network of low-cost atmospheric monitoring stations. The network will be designed, unlike existing networks, to maximise the information important for evaluating and constraining climate models. Network design will be informed by using output from an established climate and air quality mode to identify the regions where observations would be most beneficial. This is a new targeted approach to model development and evaluation that holds great potential for helping to address the sources of uncertainty in model simulations of the effect of aerosol on climate. The use of low-cost sensors in such a network is novel and exciting, and it is expected that the pilot project will lead to the development of a longer term network.
Objectives
In this project you will work with researchers in the (i) aerosol modelling group at the University of Leeds and also (ii) the Atmospheric Measurement Facility, at the National Centre for Atmospheric Science, in order to develop a pilot network of low-cost atmospheric monitoring stations. We would expect the student to develop the work along their own interests and experience, but the studentship could involve the following:
Review of Sensor Performance: There is a need to establish the accuracy, reliability and robustness of the data from low-cost sensors before they are used for scientific research. This stage would involve a combination of laboratory and local field research.
Identify deployment strategies: Output from a series of model simulations with the Met Office UK Chemistry and Aerosol model (UKCA) will be used to design an optimum deployment strategy, including key sensor locations, consideration of the representativeness of the data and the duration of the monitoring required.
Pilot deployment of low cost monitors: We expect the student to co-ordinate the deployment of an initial suite of low-cost sensors to key locations, collate and analysis the data, including comparison with other data sets.
Demonstration of model constraint: Data from the pilot network will be compared to a suite of model simulations, to examine the extent to which the data can reduce the uncertainty in the effect of aerosol on climate.
Potential for High Impact Outcome
The multidisciplinary project has a strong chance of high impact outcomes because:
Current estimates of the effect of aerosol on climate are extremely uncertain, and have remained so over successive IPCC reports.
Low cost sensors are a new and emerging technology; work designed to maximise their potential benefit to science is necessary to fulfil their potential.
By linking air pollution to the health impacts, the project has a clear pathway to impact.
Student profile
The project would suit a student with a scientific degree (chemistry, maths, physics, engineering, environmental sciences) and an interest in climate and atmospheric measurement. Training will be provided in computer programing and data visualisation, but any prior experience would be advantageous.
Training and Supervision
Dr. Kirsty Pringle is a member of the Centre of Excellence for Modelling the Atmosphere and Climate (CEMAC) at the University of Leeds. She has over 10 years' experience in atmospheric modelling and is co-developer of the GLOMAP aerosol model. She is interested in citizen science and low-cost monitoring opportunities, and recently ran a small citizen science project to monitor air quality in Saltaire, Bradford (https://theairinsaltaire.wordpress.com/).
Prof. Ken Carslaw is director of the Institute for Climate and Atmospheric Science at the University of Leeds, and also leader of the Global Aerosol Modelling Group. He has published over 160 papers on a wide range of aerosol issues, including new particle formation, climate forcing and the impact of aerosol on health. He is also a Royal Society Wolfson Merit Award holder.
Dr. Barbra Brooks is head of the Atmospheric Measurement Facility in the National Center for Atmospheric Science. She has over 15 years' experience in the field of atmospheric monitoring; during this time she has been responsible for taking atmospheric composition and meteorological measurements around much of the globe, including station, ship and aircraft observations.
Related undergraduate subjects:
Chemistry
Computer science
Earth science
Geography
Physics